SAN ANGELO, Texas — It's time for Christmas at Old Fort Concho 2018.
The event, packed full of activities and shopping for visitors is scheduled for Friday through Sunday, on the fort grounds.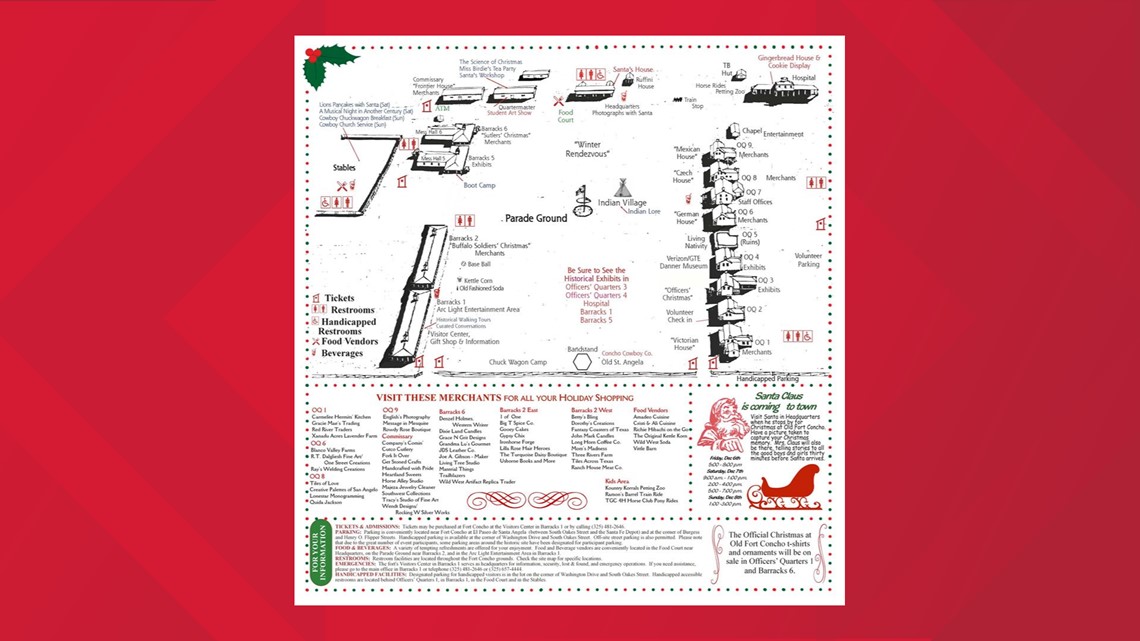 The Fort's 28 buildings on 42 acres will have something to do for everyone - young and old, beginning at 3 p.m. Friday when the Winter Rendezvous, merchants and buildings open for business. Santa Claus will arrive in the Santa House at 5 p.m.
The annual crowd favorite Lions Pancakes with Santa will kick off at 7:30 a.m. Saturday, Dec. 7. Activities for children will be held Saturday and include such events as Miss Birdie's Tea Party, a boot camp, Santa's Workshop, and a newly-added event, Discover Christmas Using Your Five Senses.
Saturday night, "A Musical Night in Another Century," will be held in the Stables. The Frontier Brigade Band from Fort Worth and the Sweet Song String Band from Oklahoma will provide the musical entertainment. The evening is being billed as a fun, alcohol-free family event of music, dance and entertainment.
Sunday, Dec. 8 will begin with the Cowboy Chuckwagon Breakfast, a flag-raising ceremony on the parade grounds and the annual cowboy church service. A retreat ceremony will close the weekend.
Some of the events being held are ticketed. For more information about Christmas at Old Fort Concho, and full list of events and times, go to fortconcho.com.