SAN ANTONIO — Get ready for spooks and pumpkin spice and everything not so nice at the San Antonio Zoo.
The zoo's annual Halloween extravaganza Zoo Boo!, presented by PNC Bank, started September 16 and extends until October 31. This enchanting and family-friendly event is the perfect destination for families seeking a non-scary yet thrilling Halloween celebration.
Enjoy free trick-or-treating, live music, costume parties, Monster Mash Dance Parties and multiple realms of Halloween entertainment, ensuring an unforgettable experience for little ghouls, goblins, and their families.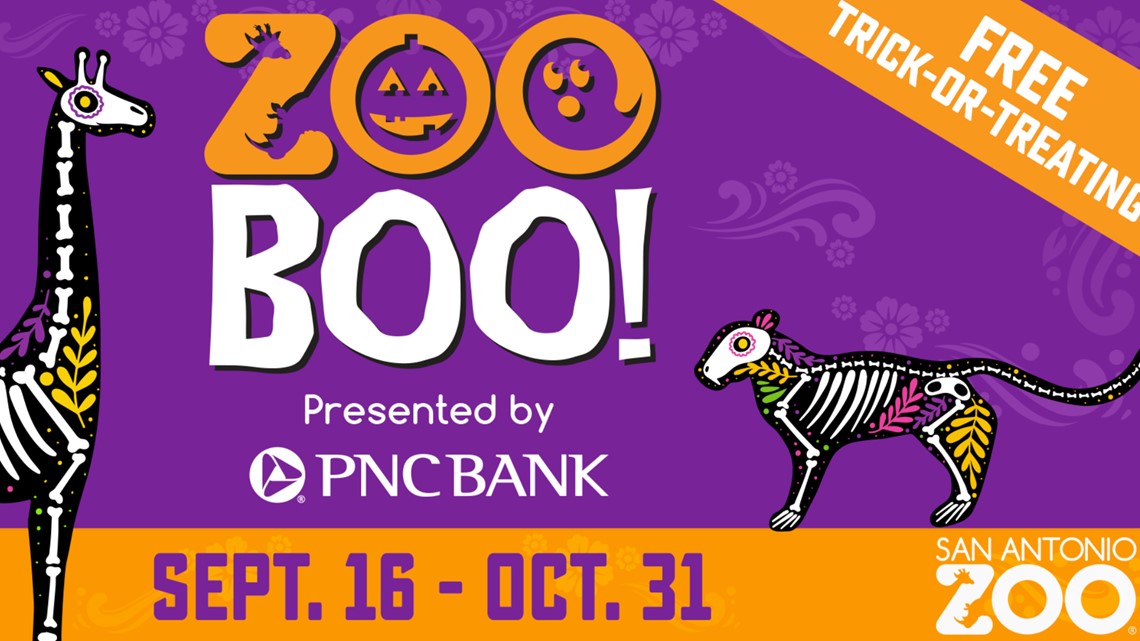 You will be able to immerse yourselves in the festive spirit and explore six different realms at the zoo: Scarecrow Sing-a-long Express, Ghoul Lawn Stage, Dia de los Muertos Plaza, Pantera Portal, Hay Hollow, and Mage Alley. The zoo says each realm will offer a unique and engaging activity tailored to entertain visitors of all ages.
"Weekends at Zoo Boo! are particularly exciting, with lively DJ performances, roaming characters that bring the realms to life, and interactive animal Creature Features led by the passionate Animal Ambassador Team," said the zoo. "Guests will have the incredible opportunity to get up close and personal with fascinating animals of all shapes and sizes. But the fun doesn't stop there – there's a thrilling hay slide, train sing-a-longs, and the chance to pick-a-pumpkin with mystery gifts inside!"
Adding to the thrill, visitors can watch the new 4D movie featuring everyone's favorite mystery-solving canine, Scooby-Doo! And you won't go hungry because the zoo will have Halloween-themed drinks and food including a concha cupcake, zombie brains, barbacoa, and a full bar sure to satisfy boys and gouls of all ages.
"PNC is proud of our new partnership with the San Antonio Zoo," said Chris Sherman, PNC regional president for San Antonio. "Zoo Boo!, Presented by PNC Bank will kick off the fall season and give friends and families a chance to create unique memories. We believe that our role in the community transcends banking. That's why we support events that strengthen the San Antonio community by bringing us all together."
Zoo Boo!, presented by PNC Bank, is included with standard admission and is free for San Antonio Zoo Members. The event will take place from 9:00 a.m. to 5:00 p.m. Sunday through Friday and from 9:00 a.m. to 7:00 p.m. on Saturdays.
"Zoo Boo! at San Antonio Zoo is the perfect destination for families to embrace the spooky spirit and create cherished memories together," said Tim Morrow, President & CEO of San Antonio Zoo. "We are thrilled to offer this non-scary Halloween extravaganza, where guests can immerse themselves in a world of enchantment, enjoy thrilling activities, and connect with amazing animals. Join us as we celebrate the magic of Halloween and ignite a passion for wildlife conservation."
Since going on the air in 1950, KENS 5 has strived to be the best, most trusted news and entertainment source for generations of San Antonians.
KENS 5 has brought numerous firsts to South Texas television, including being the first local station with a helicopter, the first with its own Doppler radar and the first to air a local morning news program.
Over the years, KENS 5 has worked to transform local news. Our cameras have been the lens bringing history into local viewers' homes. We're proud of our legacy as we serve San Antonians today.
Today, KENS 5 continues to set the standard in local broadcasting and is recognized by its peers for excellence and innovation. The KENS 5 News team focuses on stories that really matter to our community.