SAN ANGELO, Texas — The San Angelo Police Department, family and friends gathered Tuesday morning to send SAPD Sgt. John Chappa home after his long battle with COVID-19, followed by a stroke.
Chappa served the SAPD for 21 years. As an active 45-year old man who ran several miles daily, Chappa and his family did not know the long road to recovery that was ahead of him this year.
He contracted COVID-19 in late July and was in the hospital recovering from it. Not long after, he suffered a stroke that left him unable to use the left side of his body.
Chappa spent several more weeks in the hospital before being transferred to Shannon Rehabilitation Hospital, an affiliate of Encompass Health, Aug. 16 to begin rehabilitation.
"I was really scared not knowing what was going to happen. But at the beginning, I told the staff I wouldn't be leaving in a stretcher or a wheelchair but I would be walking out on my own and that's happening today," Chappa said.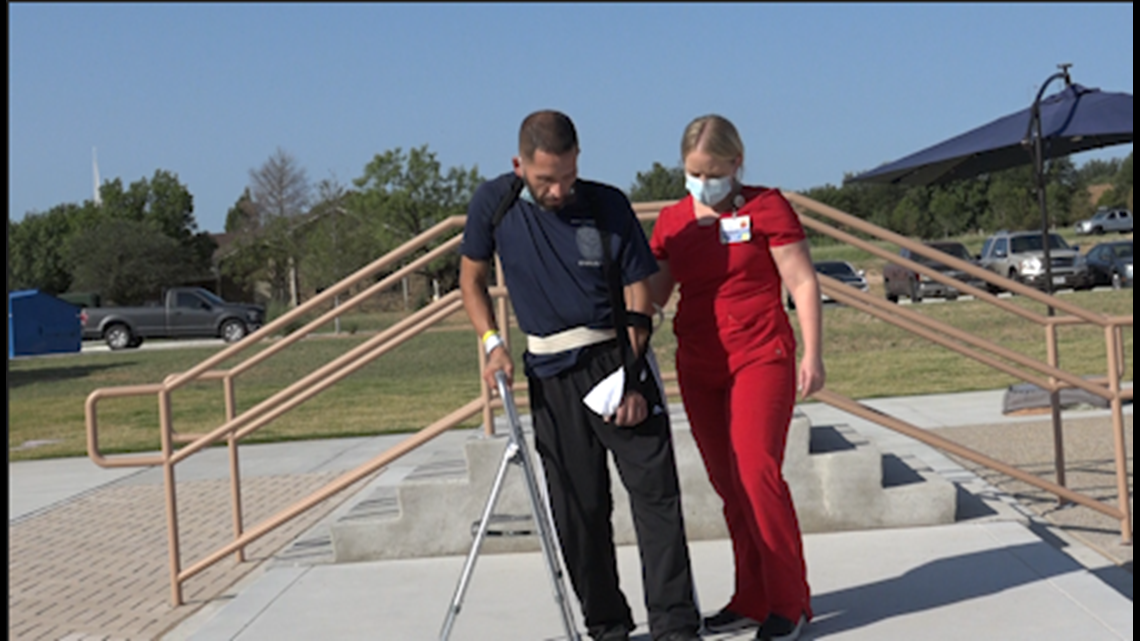 Chappa credits Shannon Rehabilitation Hospital for helping him every step of the way through his recovery. The hospital opened in March 2021, and became the go-to facility for rehabilitation in West Texas.
Whitney Shorb, human resources at the hospital, said cases like Chappa's are why it's important this hospital is close to help people in need as efficiently as possible.
"There was a time where people in San Angelo had to get rehabilitation in far away cities like Abilene and even Lubbock. Being able to meet people where they are and help as much as we can is what makes us happy. When Chappa came here he was on a stretcher, now he's leaving walking out the doors on his own. This is what makes us happy as healthcare workers," Shorb said.
The hospital has a strict rehabilitation routine with its patients, who have at least three hours of therapy five days a week to help regain function and have the ability to perform daily tasks.
Now after over a month in rehab and a long fight, Chappa was embraced by loved ones, healthcare workers and members of the community as he left the hospital and prepared for the next chapter of his life.
"I've been making so much progress since I first got here. I'm very grateful to God, the police department, the healthcare workers and my friends for helping me get to this point. The next phase for me is to keep getting better and keep working," he said.
Chappa wants people who are going through recovery like him to keep pushing because better days are ahead. He also said to not settle where they are right now but focus on the future.