SAN ANGELO, Texas — Two events took place on Saturday, with the same purpose, to thank law enforcement members and first responders.
The first event was a Thank You BBQ organized by Concho 4 Wheelers and other jeep clubs.
Hundreds gathered on East Concho Avenue to participate in the cruise that would take them to Celebration Church for the second part of the event.
Bruce Burkett, Wendy Burkett and Jodie Rector participated in the cruise.
Bruce Burkett is a police officer and says they have supported events, such as Back the Badge for several years and will do the same for events such as this.
"We want to show our affiliation to law enforcement and our support for this organization for putting all this on," Bruce Burkett said.
The second part of the event consisted of people obtaining a lunch plate for a $5 donation.
According to Jodie Rector, Cooking for Christ team member, Saturday's event was to honor first responders and for the Concho County Sheriff's Office deputies killed in the line of duty earlier this week.
The club has organized this type of event for approximately three years, however, in the last two years, it decided to include first responders.
Matt Hodges, Concho 4 Wheelers safety officer, said first responders should be celebrated every day. "This is at the end of police week and that's why we put it on this weekend," he said.
The proceeds usually go to a law enforcement agency, according to Hodges, however, proceeds from Saturday's event will go to the families of the fallen Concho County Sheriff's Office deputies.
The annual Back the Badge event organized by the Concho Valley Republican Women was also held Saturday at the San Angelo Museum of Fine Arts.
Law enforcement and military personnel were invited and honored for their service to the community.
"We just like to provide them with a free meal and thank them for their service and what they do for us in our community," Beth Uherik, Concho Valley Republican Women president, said.
Snacks, goodie bags and entertainment for the children were also available. Entertainment for the children included a clown making different shapes out of balloons and a bounce house outside the museum.
Kimberly Neal said she found out about the event through her husband, who works at Goodfellow Air Force Base.
"We appreciate San Angelo," Neal said. "They've always been so welcoming and supportive of all of the people who serve the community."
Although the events varied in size, the purpose was the same for the community to show their support and appreciation for their service for law enforcement and first responders.
Community members come together for 'Thank You' event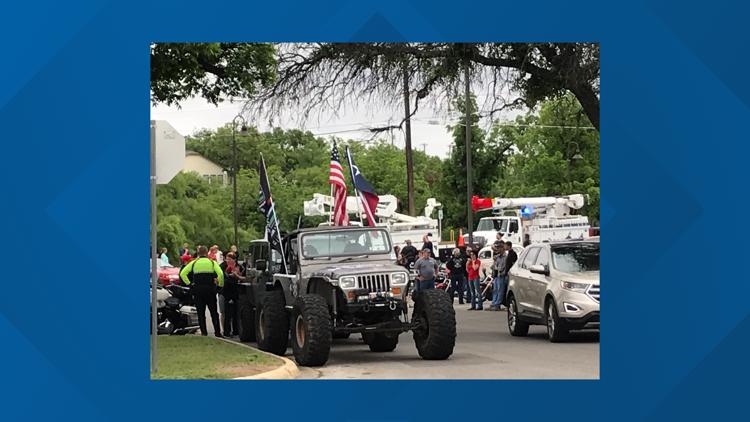 Back the Badge event aims to thank law enforcement personnel, families