SAN ANTONIO — Two Texas communities nearly 300 miles apart united as one.
Parishioners at a Catholic church in West Texas had it in their hearts to support Uvalde following the tragedy at Robb Elementary School.
"Their child got stolen from them, never to see again. I could feel that sadness when you drive up to Uvalde," said Deacon Billy Garcia of Our Lady of Guadalupe Catholic Church in Midland.
What happened this past Sunday was so much bigger than they envisioned.
Now, the principal of a Uvalde Catholic school is planning to hit the road to express his gratitude.
"Even still today, we're still talking about it," said Deacon Billy.
Healing is still happening in the community of Uvalde. Acts of love to support them have come in many forms.
"You could not only just feel [the love], you could see it in everybody," said Deacon Billy.
If you walked inside the cafeteria at Sacred Heart Catholic School in Uvalde last Sunday, you would see what appeared to be a giant celebration.
"We all came together like we were one," Deacon Billy explained.
Behind the celebration were parishioners from another archdiocese in Midland, Texas. While they are under the Archdiocese of San Angelo, Uvalde falls under the San Antonio Archdiocese.
"For parishioners from two different churches that are four and a half hours apart get together, that is something I've never seen. That's something I've never heard of," said Joseph Olan, Principal of Sacred Heart Catholic School in Uvalde.

Deacon Billy's wife, Angie, told KENS 5 it was in her heart to show love for her neighbors in Uvalde. She approached Father David of Our Lady of Guadalupe last fall with the idea. She says she received his full support.
"Even though we're five hours apart, we still have to be there for each other," said Angie.
Once word of her mission got out, dozens of volunteers hopped on board. Local businesses from Midland and Odessa joined forces to donate 55 briskets, 100 bicycles, manicures, haircuts and more to Uvalde.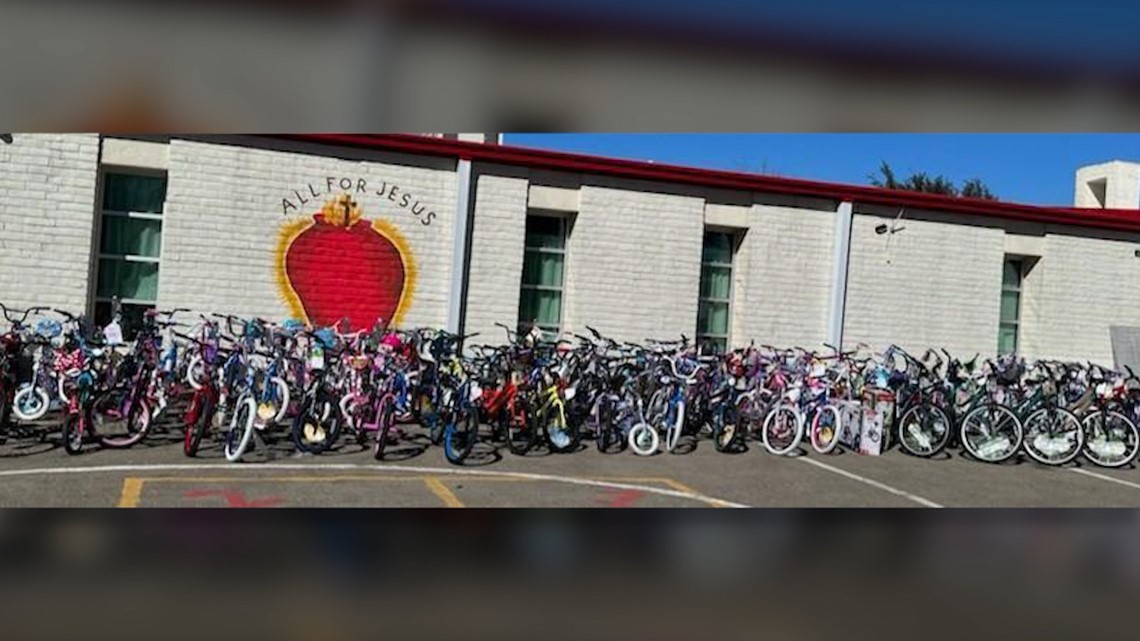 Employees with Legendz BarberShop from Midland said each person they served had a story to share.
"One lady that cut her hair, she said [to the barber], 'Thank you so much for doing this. We thought everyone had already forgotten about us,'" said Angie.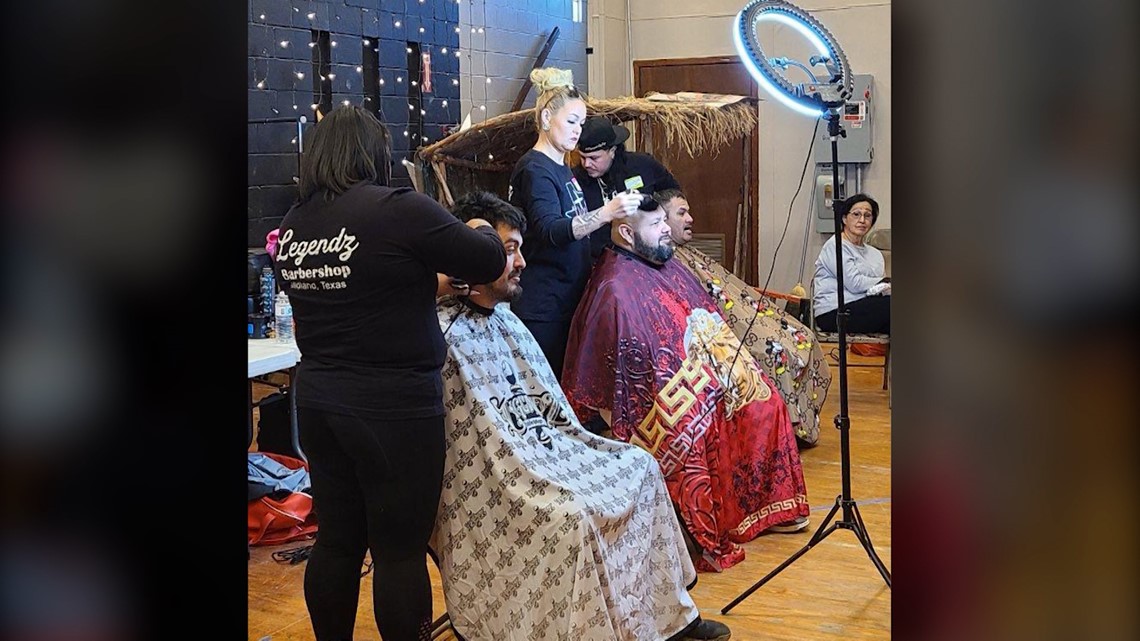 Choirs from the Permian Basin brought joy to the air at Sacred Heart, while parishioners from both churches danced together.
"Being a new ordained deacon in the Catholic church, to me, it was a great experience knowing that there's no boundaries when something happens," said Deacon Billy. "We have to go and be there for each other."
Monday, St. Mary's School in Odessa presented Sacred Heart with a $1,700 check. Principal Olan plans to use the funds for gym equipment and perhaps a new salad bar serving fresh fruits and vegetables to students.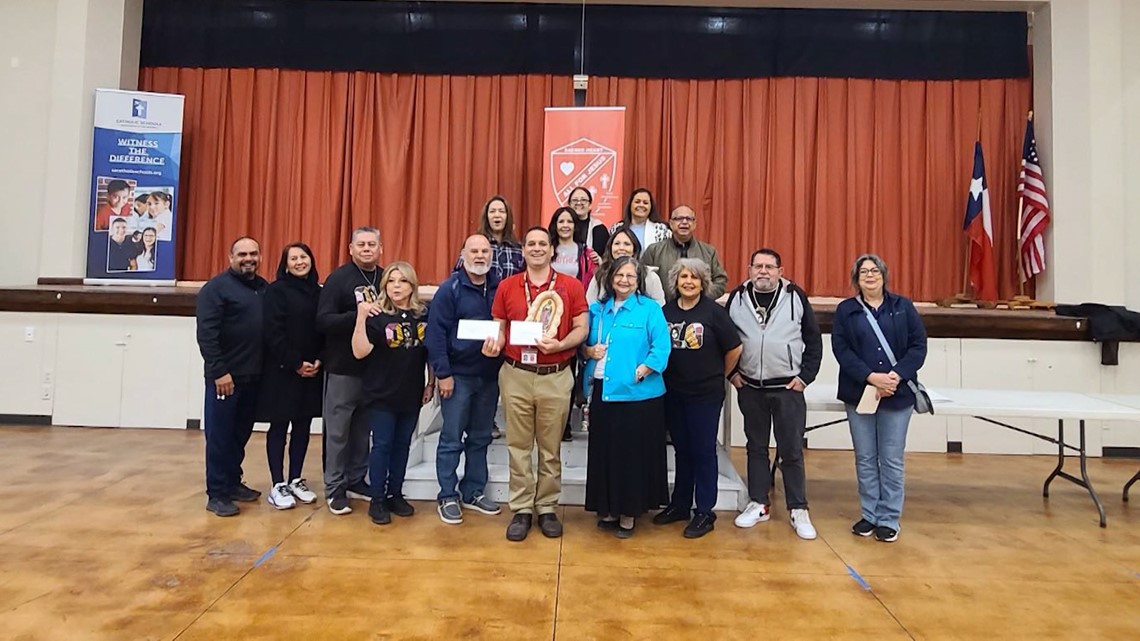 "They just wanted to sparkle a blessing on this community. It was more than a sparkle. It was tremendous," said Olan. "It's truly amazing to see God's work."
As Angie said goodbye to her new friends in Uvalde, she said she was brought to tears.
"It choked me up because it was like they were a part of me," she said. "You said we blessed them, but they don't know the impact they had on us."
Midland and Odessa parishioners also made time to stop by Uvalde's memorial in the center of town.
This weekend, Olan will drive to Midland to share words of thanks at every Sunday mass at our Lady of Guadalupe. He says he prefers to thank their parishioners personally.
With him, he will give cards and posters to the Midland and Odessa parishioners, made with love by Sacred Heart students and parents.
"There are beacons of hope in your communities, you just have to open your eyes and embrace them," said Olan.