RANKIN, Texas — Two adults and two children were killed in a crash along Hwy 349 Saturday evening.
The Upton County Sheriff's Office posted to its Facebook page stating the crash had shut down a portion of Hwy 349, 15 miles north of Rankin Saturday night.
Viewers told NewsWest 9 prior to the release of official information from DPS that a woman and her two daughters were killed in the head-on crash. Rankin ISD sent a letter to faculty, staff, and students Sunday evening saying a beloved community member and two students had died over the weekend.
"The loss of Kristina McCrary, Rylee Ramos, and Reece Ramos is sure to raise many emotions, concerns, and questions for our entire school, especially our students," the statement read.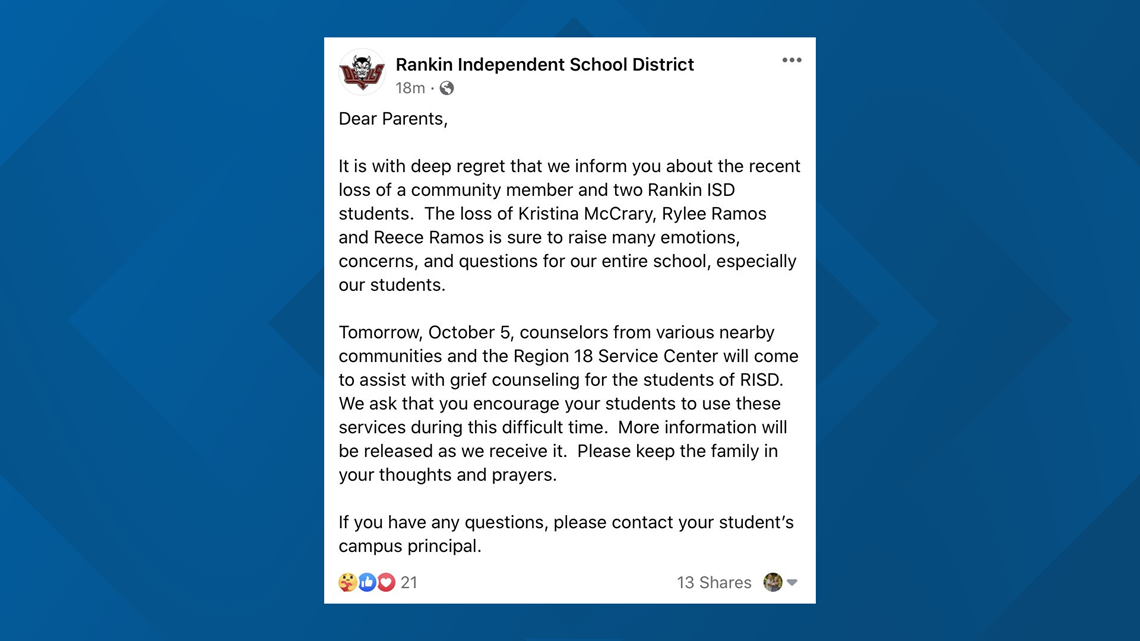 The school district plans to have counselors from nearby communities on hand to assist with grief counseling.
"Please keep the family in your thoughts and prayers," the district's statement read.
DPS confirmed the identity of McCrary and the Ramos girls, and also confirmed the death of Fabian Esquivel, 28, the driver of the other vehicle.
Equivel was pronounced dead after being taken to Medical Center Hospital in Odessa. DPS says he was not wearing a seat belt at the time of the crash.
A four-year-old girl was also a passenger of Esquivel's truck at the time of the crash. She was taken to Rankin County Hospital with non-incapacitating injuries.
According to DPS, investigation of the crash found Esquivel's truck crossed a center stripe and entered the opposite lane. As he was driving on the wrong side of the road, the truck hit the teacher's vehicle head-on.
At this time, no more information is available. DPS continues to investigate the crash.