MAPLE LAKE, Minn. — Maple Lake, Minnesota will never be mistaken for Detroit Rock City.
With one corner lot exception.
"God of thunder and rock and roll," Vern Simon belts out acapella from the basement of his home.
Consider it Vern's first KISS.
"God of Thunder" was the song by the band KISS Vern first heard at nine years old on his uncle's 8-track tape player. That song would spark both a lifelong love for the band and the KISS memorabilia explosion covering every inch of free space in two rooms and a hallway of Vern's basement.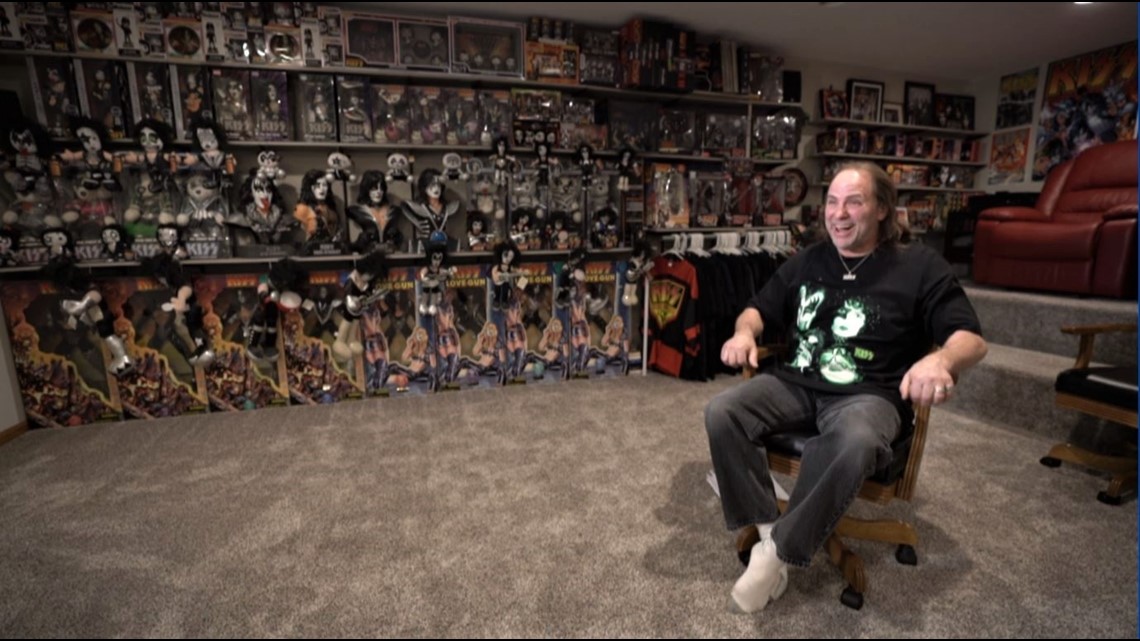 "Yes," Vern answered with a laugh.
KISS dolls? Vern has 250 of them.
KISS comic books? Vern has 657 in his collection.
KISS bubble gum cards? Vern has nearly 1,700 of those, along with a wall of toy cars, a KISS toothbrush, and KISS condoms.
"Just about anything you can think of, I think I've got something," Vern said.
Vern was 14 when he attended his first KISS concert — with his mom.
"It was just pounding," Vern recalled. "Just right there in your face kind of music."

Today his collection reflects his loyalty to the original four members of his favorite band: Gene Simmons, Paul Stanley, Peter Criss and Ace Frehley.
Vern's collection also reflects KISS' reputation as a prolific marketer, lending its name and the likenesses of its members to clocks, lunch boxes, and even a coffin. The latter is one of the few KISS items Vern does not own, though he does have a KISS coffin displayed on a poster.
As long as Vern is among the living, his collection will be fueled by both his passion for KISS and a singular desire.
"I want to be number one," he said. "I've never been number one in anything."
Vern believes he may have the world's largest collection of KISS memorabilia.
So, on a recent Saturday, the count began.
"Right now, we are trying to get into the Guinness Book of World Records," he said.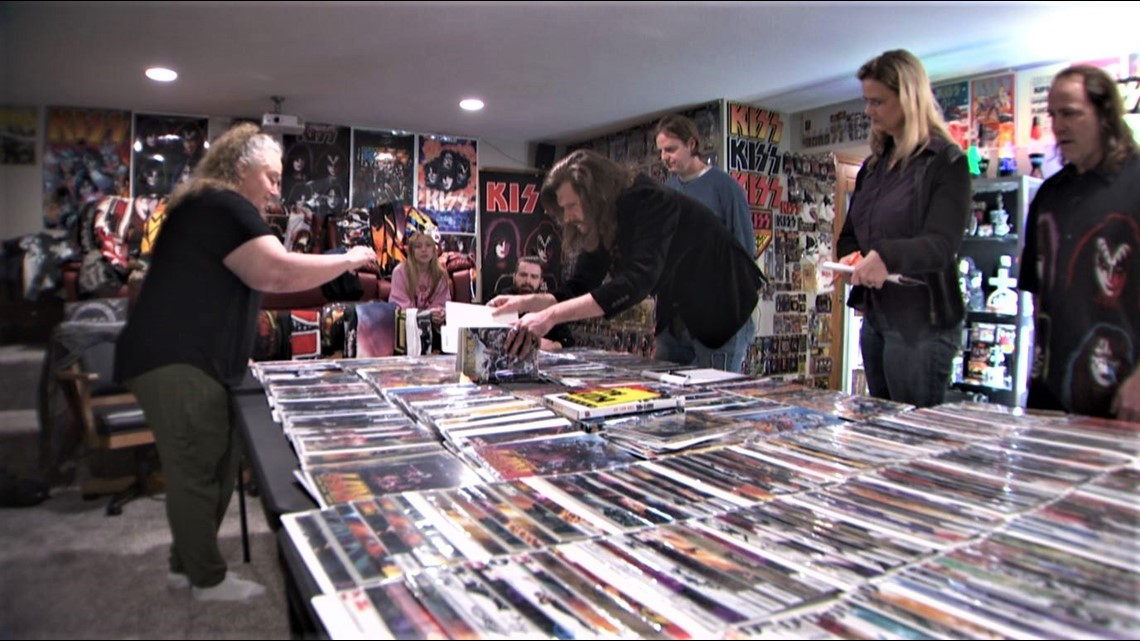 With Vern and his two kids watching, Joseph Courtney, owner of Hit Comics, performed the official count.
Vern's wife Andrea records a video of the count, start to finish, on her cell phone. The video will be included with the documentation Vern will submit to Guinness.
Among the required witnesses is Lynn Kissock, the mayor of Maple Lake.
"I thought it would just be really cool," she said, "to have another big thing that Maple Lake does."
A search of the Guinness website currently lists no "world's largest" collection of KISS memorabilia. "So, I'm attempting to be the first," Vern said.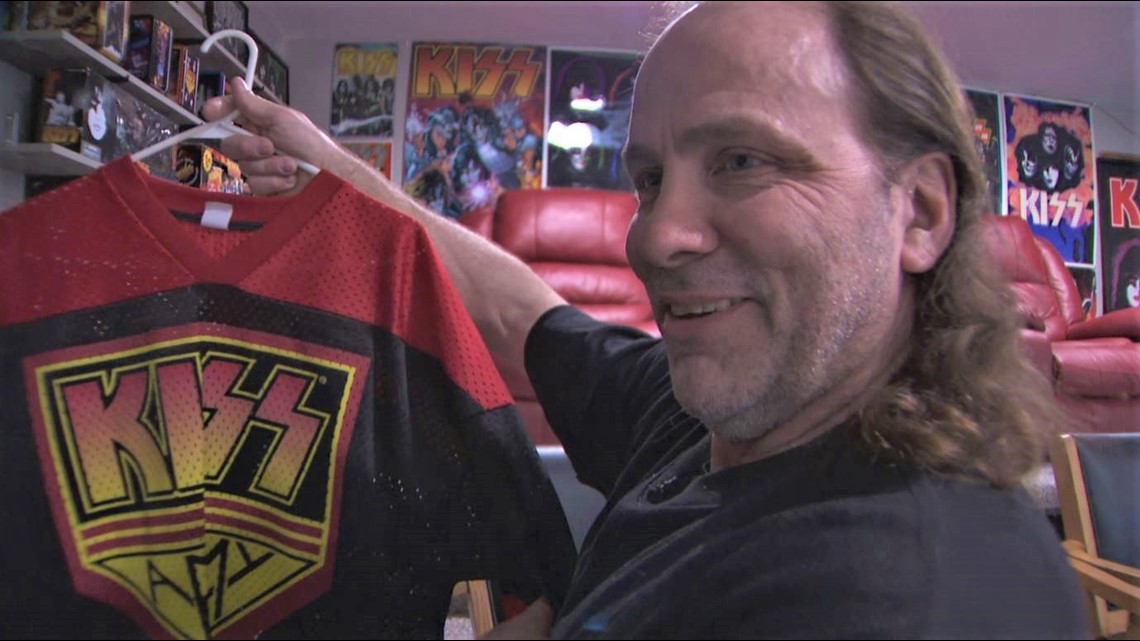 Vern acknowledged the existence of other large KISS collections, including one displayed in a KISS museum in Las Vegas.
"I'm confident of getting this and making it hard for the next person," he said confidently.
After nearly three hours of counting merchandise — no duplicates allowed — Vern stands proudly with the tabulation sheet.
"There's the total right there," he said, pointing to the number.
Vern's basement contains 3,799 qualifying KISS items on a signed list that he'll forward to Guinness.
"It's something I need to do," Vern said resolutely.
Maple Lake may not be Detroit Rock City, but in Vern's home, rock has definitely taken up residence.
"Now I've got a chance at being first," Vern says. "You know, like a rock star."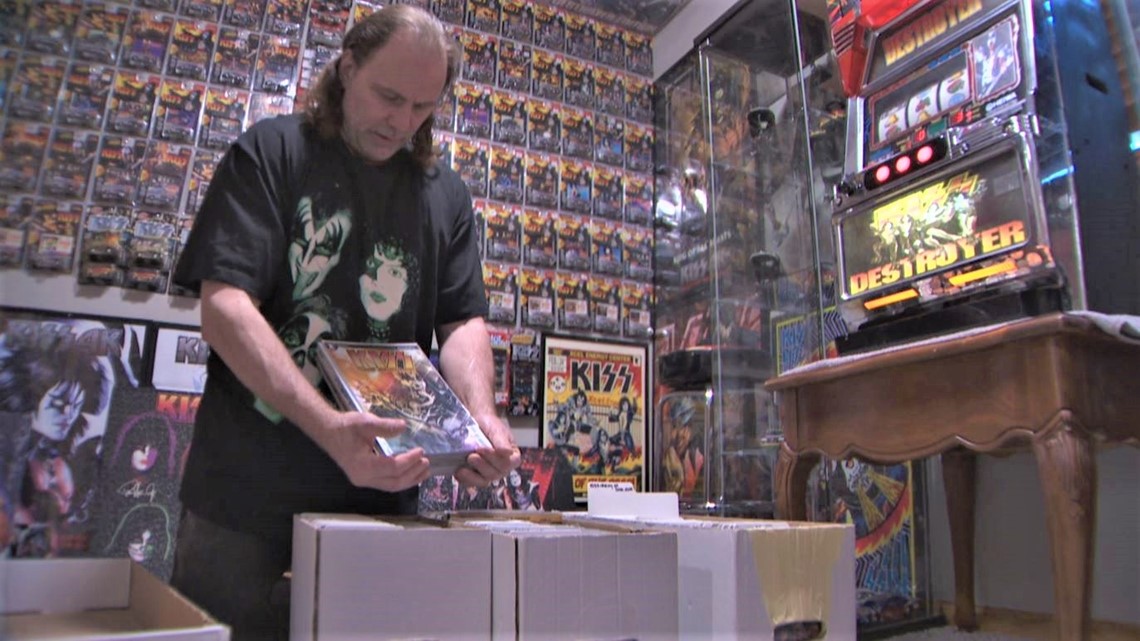 Boyd Huppert is always looking for great stories to share in the Land of 10,000 Stories! Send us your suggestions by filling out this form.