SAN ANGELO, Texas — The San Angelo City Council heard from residents regarding new boundaries for its council single-member districts and there were mixed opinions on what should be done.
According to 2020 Census data, the City's council member districts are not of sufficiently equal population and must be redrawn in order to comply with the "One-person, One-vote" principle established by the U.S. Constitution.
"The City district maps they voted on today are not reflecting the growing population of minorities in San Angelo. Each district has seen growth and I don't believe the City Council is taking that into account," San Angelo resident, Kilo Perez, said.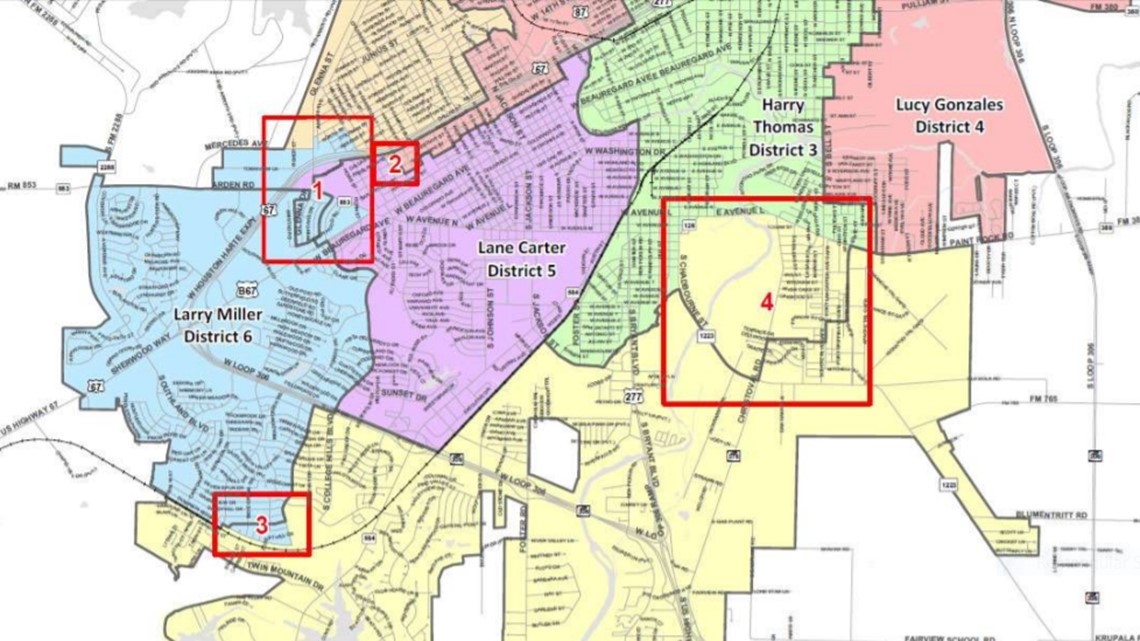 Just recently, the U.S. Department of Justice sued Texas over new political maps, claiming Texas lawmakers illegally discriminated against voters of color by drawing new political districts that give white voters more political power despite rapid growth of Hispanic and Black populations, the department claims in its lawsuit.
Jon James, City of San Angelo Director of Planning and Services, claims San Angelo is a slow-growing area and the issue of population in districts can be resolved proficiently.
"The amount of people who need to be shifted to different districts is fairly small, a little over a thousand people. The percentages in each district will change slightly but in the scheme of things there's only a two to three percentage shift for people in San Angelo," James said.
When the U.S. Census was taken in 2010, there were a total of 93,200 residents counted. After the 2020 Census, there were 99,893 residents counted. The voting percentage also jumped within specific districts, according to the City's website.
One City Council member insisted all minorities who are eligible to go out and vote in local, state and national elections to ensure the minority voice is heard.
San Angelo City Council Single-Member District 5 candidate packets for the Jan. 29, 2022, special election are available online and at City Hall, 72 W. College Ave. The recently-vacated SMD 5 position will be filed with an elected official serving a term through May 2023.
The filing period for candidates started Dec. 7 and will continue through Dec. 20.