GOYANG, South Korea — The leaders of North and South Korea vowed Friday to rid the Korean Peninsula of nuclear weapons and start a "new era of peace," after a summit that saw Kim Jong Un become the first North Korean leader to set foot in the South since the Korean War ended in 1953.
Kim and South Korea's President Moon Jae-in said they had "sincere, candid" talks and would do everything in their power to denuclearize the region, although the rival nations ultimately provided few details over how denuclearization would be achieved.
The two Koreas also said they hoped to declare an official conclusion to their decades-long war by the end of this year. North and South Korea are still technically at war, as an armistice was signed that stopped the fighting, but not a peace treaty.
"South and North Korea agreed to completely cease all hostile acts against each other in every domain, including land, air and sea, that are the source of military tension and conflict," a joint statement said.
They said they would work to bring an end to the Korean War by pursuing talks with the United States and possibly China. The U.S. and China were signatories to the original armistice, which North and South Korea said they were determined to turn into a peace treaty.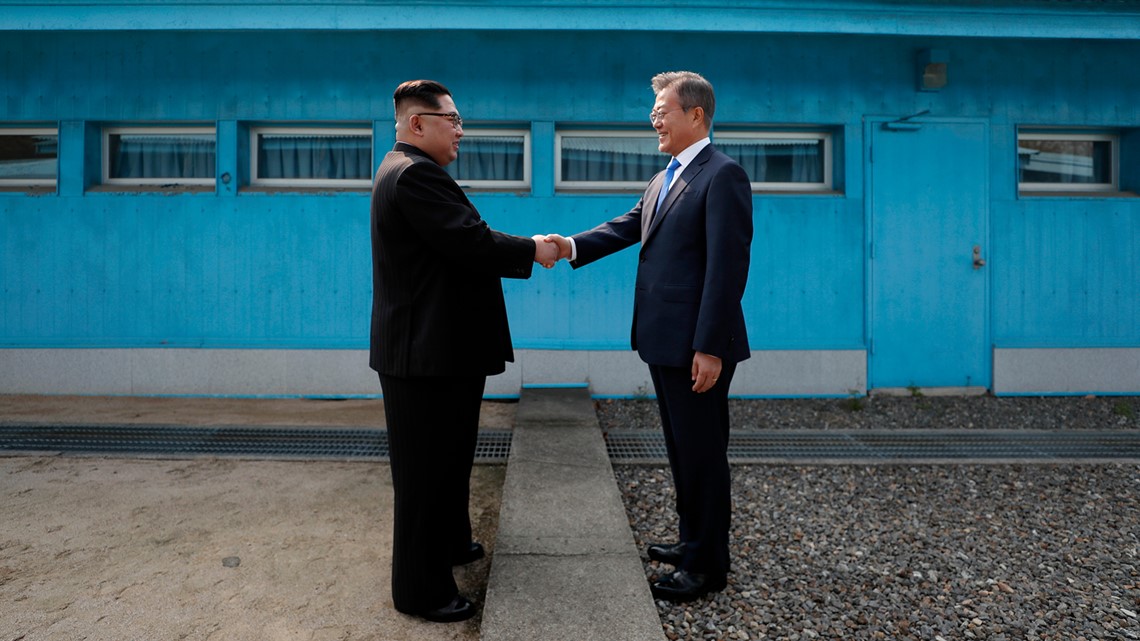 The two sides said they would transform the Demilitarized Zone that has separated them since 1953 into a "peace zone" and would end provocative acts such as propaganda loudspeakers along the military demarcation line. They also pledged to improve inter-Korean ties and "reconnect the blood relations of the people" through steps such as economic cooperation and restarting a stalled family reunion program that will allow separated families to meet again. The reunions will start again on August 15.
"After a furious year of missile launches and Nuclear testing, a historic meeting between North and South Korea is now taking place. Good things are happening, but only time will tell!" President Trump said in a Friday morning tweet.
"KOREAN WAR TO END! The United States, and all of its GREAT people, should be very proud of what is now taking place in Korea!" he added.
Yet details on the roadmap to many of the goals announced Friday were scarce.
"It seems they wanted to walk on safe ground," said Balazs Szalontai, a Koreas expert at the University in Sejong. "They took what has already been suggested at one time or another and tried to build on that, instead of making something dramatically new."
Szalontai said the event was a step toward "resetting" the relationship, after years of high tensions between the countries.
But the symbolism of the day was nevertheless powerful.
At one point, both leaders clasped hands and raised them aloft after signing the joint declaration inside the Peace House venue in the border village of Panmunjom.
Kim and Moon even pulled together for a hug in a stunning, almost surreal sight.
Earlier Friday, history was made with a few small steps when Kim walked across the heavily armed border that separates the Korean Peninsula and greeted Moon.
The two leaders were all smiles as they shook hands and exchanged words in a scene many could not have imagined just a few months ago.
After a tense 2017 filled with ballistic missile launches and North Korea's sixth nuclear test, both sides have made huge strides toward diplomacy in 2018, leading up to Friday's summit, just the third time leaders of the two Koreas have met.
It comes ahead of a planned summit between Kim and Trump, likely in mid-May.
During their greeting at the border, Kim appeared to go off-script and invited Moon to first briefly cross into North Korean territory, which the South Korean president accepted with a broad smile.
In another apparently impromptu moment, Kim suggested the two negotiating teams gather for a group photo.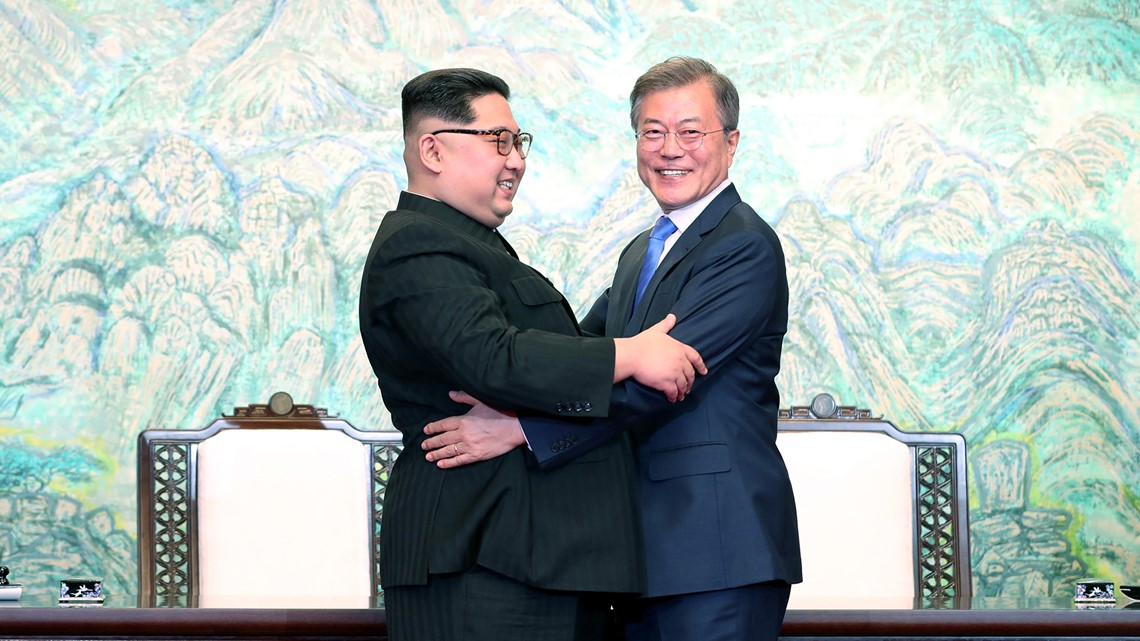 Inside the Peace House, Kim signed a guestbook with a message: "New history starts from now, at the historic starting point of an era of peace."
In a reference to Pyongyang halting further weapons tests and shutting down its nuclear test site, Kim told Moon: "We won't interrupt your early morning sleep anymore."
North Korea's nuclear and missile tests last year likely put it on the threshold of becoming a legitimate nuclear power. North Korea claims it has already risen to that level.
The greeting of the two leaders was planned to the last detail. Thousands of journalists were kept in a huge conference center well away from the summit, except for a small group of tightly controlled pool reporters at the border.
After the signing ceremony, both Moon and Kim addressed reporters in front of the Peace House. Moon called the day's events a "great gift to both Koreas," while Kim said that South and North Koreans "are the same blood."
Following the first session of talks, Kim crossed back to the North for a brief recess and lunch before returning for more ceremonial events, further talks and a formal dinner. The leaders also planted a pine tree in the demilitarized zone, using soil and water taken from both countries.
Emmanuel Pastreich, director of the Asia Institute in Seoul, said that while today's final statements remained vague, the positive sentiment created by the summit helps move the peace and denuclearization process forward to its next step, the Trump summit.
"I think here was an intention to create an environment in which it makes it harder for the U.S. to back away," he said.
Contributing: Mike James of USA TODAY and the Associated Press