On Sept. 11, 2023, the 22nd anniversary of the World Trade Center attacks in New York City, President Joe Biden spoke in Anchorage, Alaska, to commemorate the anniversary.
During his speech, which he made while en route to Washington from a trip to India and Vietnam, Biden said that while he was a senator he visited ground zero – the site of the attack – the day after, on Sept. 12.
Rudy Giuliani, who was New York City mayor at the time of the attack, countered that claim on X, formerly known as Twitter.
Giuliani posted: "Joe Biden said he was at Ground Zero the day after the September 11, 2001 attack. I was there. Produce a record or admit you are a liar. And apologize to those who died, or almost died, or lost love ones, on September 11, 2001. THEN RESIGN."
VERIFY viewer Ian asked us on Facebook if Biden was really at ground zero the day after the Sept. 11 attack.
THE QUESTION
Was Joe Biden at ground zero the day after Sept. 11?
THE SOURCES
Associated Press file photo from Sept. 20, 2001
THE ANSWER
No, Joe Biden didn't visit ground zero as a senator the day after the 9/11 attacks.
WHAT WE FOUND
While at Elmendorf Air Force Base in Anchorage on Sept. 11, 2023, Biden said: "I join you on this solemn day to renew our sacred vow: Never forget. Never forget. We never forget. Each of us — each of those precious lives stolen too soon when evil attacked. Ground zero in New York, I remember standing there the next day and looking at the building. I felt like I was looking through the gates of hell, it looked so devastating because of the way you could — where — from where you could stand."
But Biden didn't visit ground zero the day after Sept. 11. C-SPAN footage from Sept. 12, 2001 shows Biden, who was then a U.S. senator from Delaware, delivering remarks in Washington, D.C.
Biden visited ground zero nine days after the attack, on Sept. 20, according to numerous reports.
During a White House press briefing on Sept. 13, 2023, National Security Council Spokesman John Kirby was asked about Biden's original claim he was there the day after. Kirby confirmed Biden wasn't there until a "week or two after the event." VERIFY reached out to the White House for additional confirmation but did not hear back at the time of publication.
On Sept. 20, 2001, CNN reported that Biden was among one of the "largest groups of U.S. senators ever to travel together outside Washington" to travel to New York City to tour the site of the terror attacks.
A file photo from the Associated Press also shows Biden standing with fellow senators joining in prayer with rescue workers at the site of the World Trade Center. The photo was taken on Sept. 20, 2001.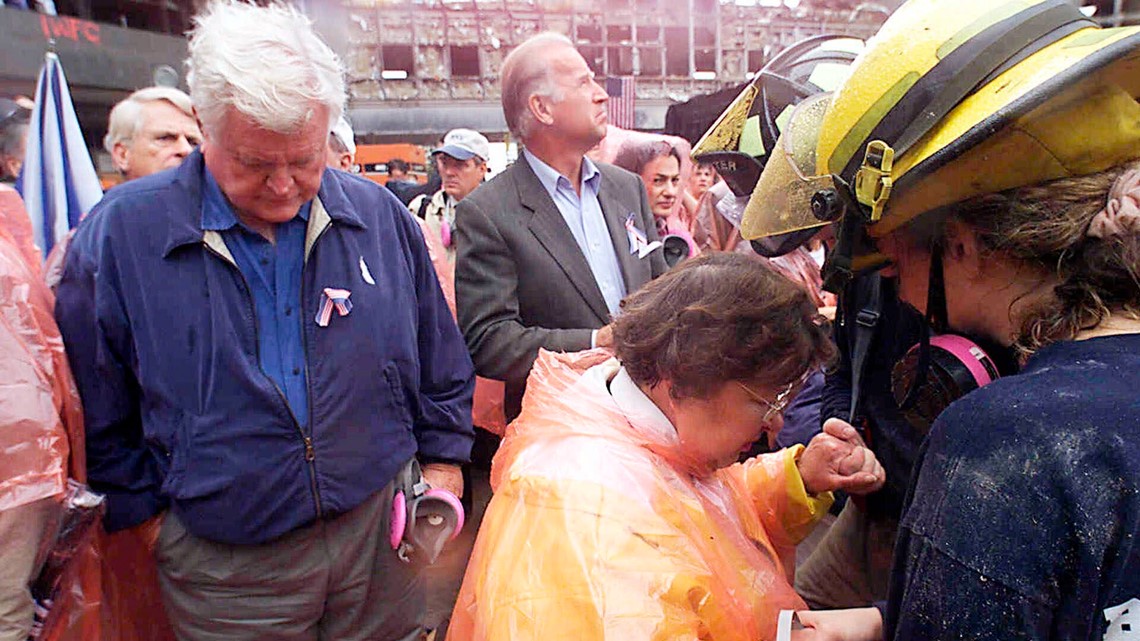 So, we can VERIFY Biden was not at ground zero the day after the Sept. 11 terror attacks.