ABILENE, Texas — Monday, May 18th, Governor Greg Abbott announced that bars in Texas could begin reopening Friday, May 22nd, and operate at 25% capacity.
Following the Governor's announcement, a local bar in Abilene "The Whiskey Girl" announced on social media that they would be resuming business beginning that same day at 4 p.m and would not be waiting until Friday.
According to Coy Chew, owner of The Whiskey Girl, his decision to reopen early ultimately came down to finances.
"We couldn't wait.. Just my basic bills at the bar alone are close to 5,000$ a month that's just rent and basic utilities just to keep a closed bar going" said Chew.
Chew resumed business and received support on his social media post.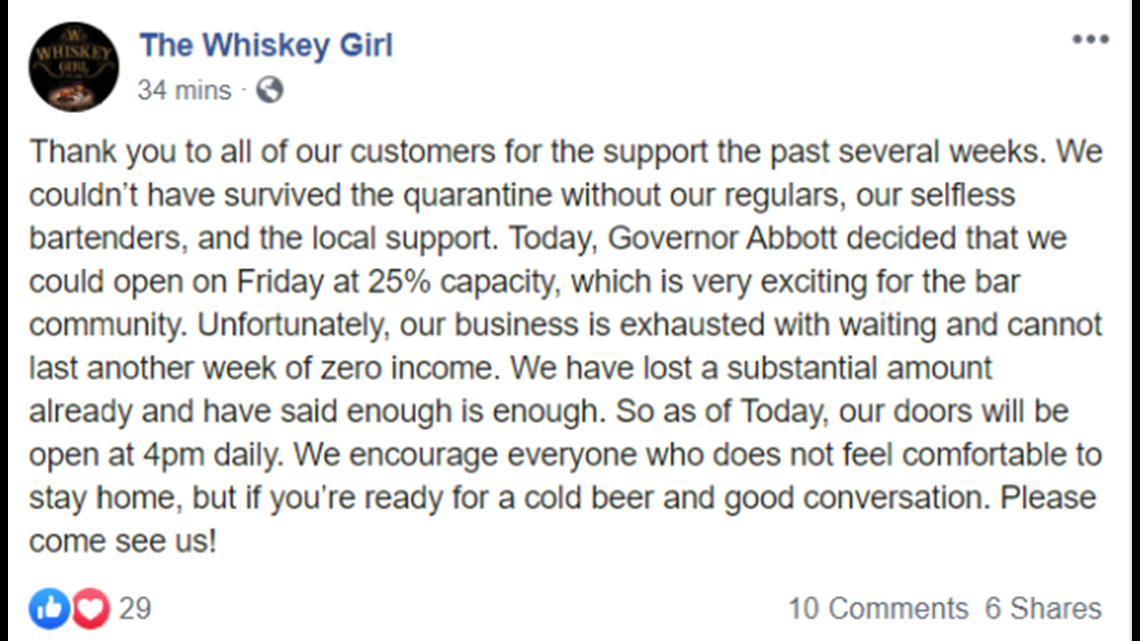 "To wait another week would have been another 1500$ in debt -- then another week of no income," said Chew.

According to the Texas Alcoholic Beverage Commission, spokesperson Chris Porter,
"TABC's practice has been to give business owners who are reported to be in violation of an opportunity to voluntarily comply with Governor Abbott's orders. As a result of this practice, the agency has yet to issue any formal citations to any business in the state.
As we have since the initial isolation phase began, we urge all businesses to follow the guidelines set by state and local leaders and public health officials. TABC agents will continue to respond to reported violations and meet with business owners to educate and inform them of the current requirements."
We also reached out to the Abilene Police Department who provided this statement from City Manager, Robert Hanna:

"Under the advice of our attorney, the City is not enforcing any State issued order. However, these businesses receive a license from the State of Texas and therefore are at risk of losing their license or being fined for not following the Governor's executive order. "
Chew says if fined he would not be able to pay it at this time.
"I'd have to work something out down the line.. And what it comes down to is i think that understand that," said Chew.