SAN ANGELO, Texas — Excessive heat warnings are in effect across much of West Texas as we end the week and approach another hot August weekend.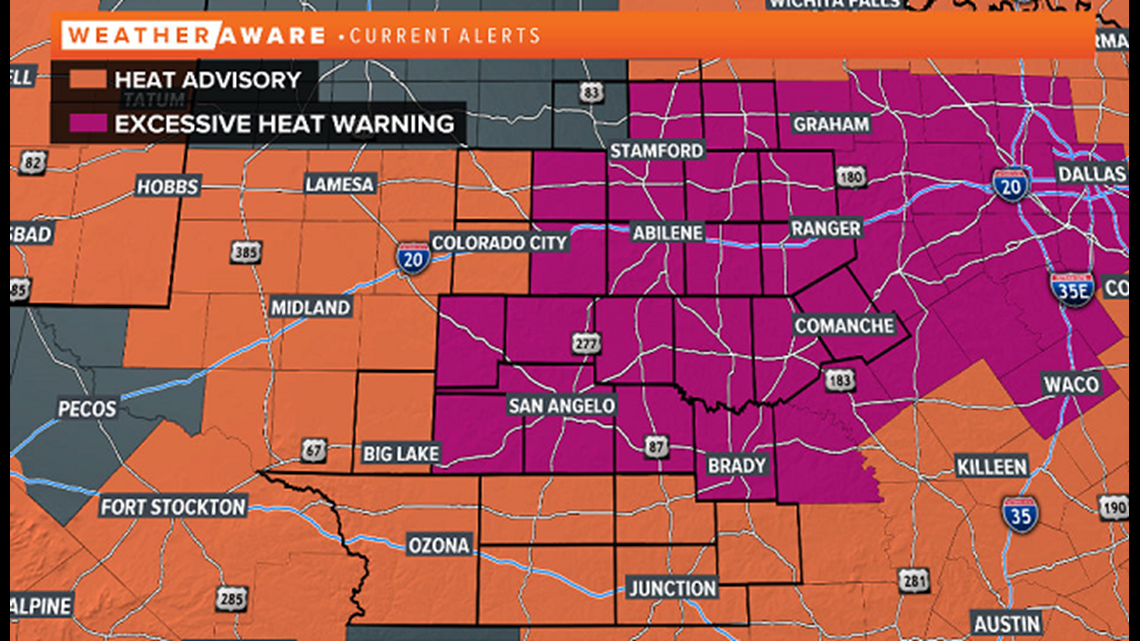 These warnings were set to expire at 7 p.m. Friday, but have been extended until 7 p.m. Saturday. Locations in the Big Country will see the excessive heat warning end at 7 p.m. Friday, with a heat advisory still in effect until 7 p.m. Saturday. Excessive heat warnings in the Concho Valley will continue until 7 p.m. Saturday.
Dangerous heat is expected across the area Friday and Saturday afternoon's, with temperatures up to 108 degrees in a few locations.
However, there is some relief in the forecast moving forward. A few showers and an isolated thunderstorm are possible this weekend. Saturday morning, locations along and north of I-20 may see a few showers associated with a weak front.

Saturday afternoon, more showers, and possibly a stray thunderstorm, may develop during the heating of the day.

Although some areas may pick up on brief relief with these showers both Saturday and Sunday afternoon, the overall weekend looks to be hot with triple-digit highs remaining.

Additional relief is in the forecast early next week as highs are expected to remain in the double-digits with more scattered rain chances.
Stay with FOX West Texas for the latest information.