SAN DIEGO — Monday afternoon high temperatures will be above seasonal norms.
Coastal highs 73°-86°, normal around 75°.
Inland highs 85°-97°, normal around 85°.
Mountain highs 84°-93°, normal around 76°.
Desert highs 100°-106°, normal around 96°.
At the beaches, water temperature is 65°-70° with a low rip current risk. Wave heights are 1'-3' with sets to 4' from a new south-southwest swell. The UV index will peak at 8 (very high).
Humidity in the County will be moderate. Coastal areas will see dew points near the mid 60s, inland and mountain dew points will be in the 50s. Desert dew points are expected to be in the 30s.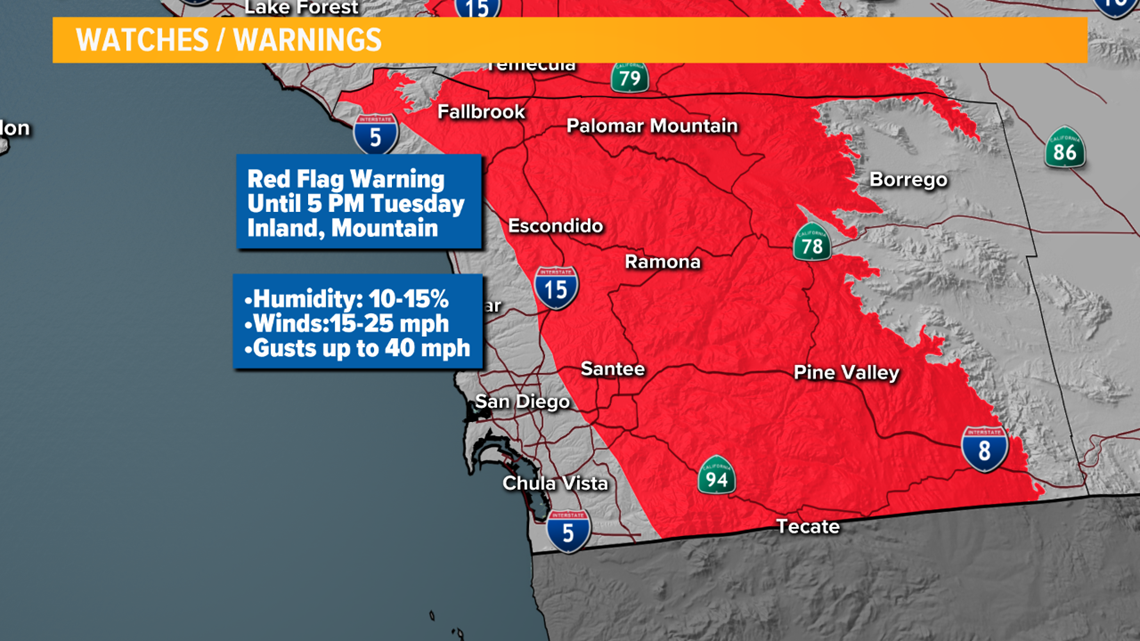 A Red Flag Warning has been issued for inland and mountain areas until 5 PM Tuesday. Low relative humidity will be 10-15%. East winds 15-25mph with gusts as high as 40 mph in the windiest locations. Conditions will be ideal for rapid fire spread.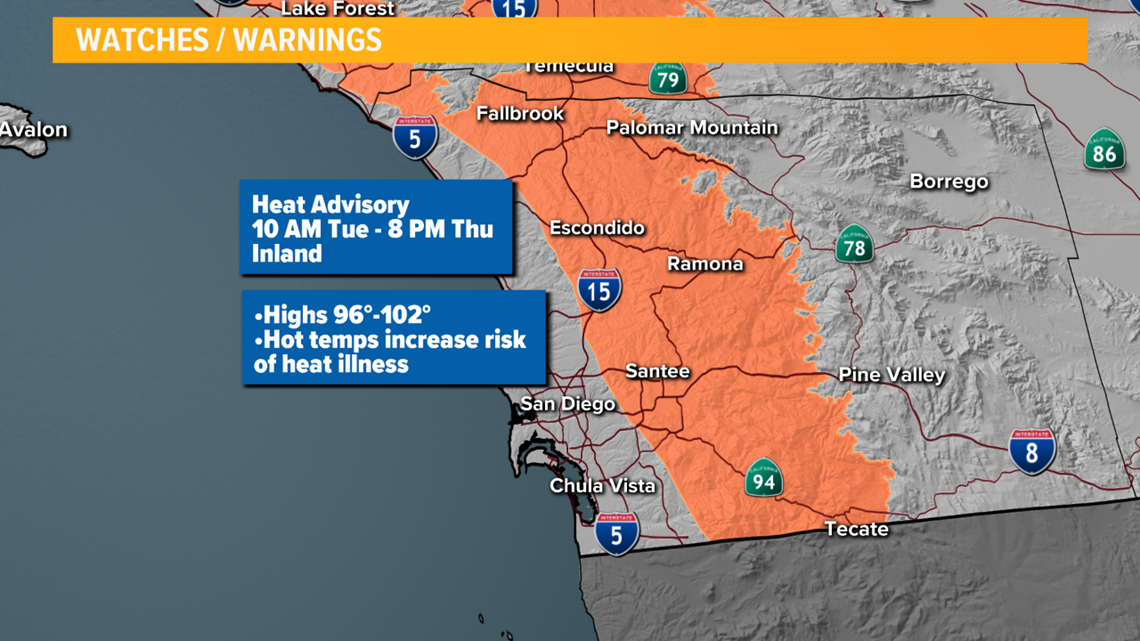 A Heat Advisory has been issued for inland locations from 10 AM Tuesday until 8 PM Thursday. Afternoon high temperatures will be in the range of 96°-102° through midweek. Hot temperatures will increase the likelihood of heat related illnesses. Drink plenty of water and stay cool.
High pressure is strengthening over the Great Basin. Warm and dry offshore flow will dominate over the week. Temperatures will skyrocket then peak midweek. Hot temperatures will last through Thursday, with temperatures over 100° possible inland.
Gusty offshore Santa Ana winds will peak Monday and Tuesday as high pressure settles in the Great Basin.
The high will remain strong but shift a little north By Wednesday. This will weaken offshore winds, but the vast size of the high keeps temperatures very warm.
The high pressure will break down towards the end of the week. Slow cooling trend will bring little relief over the weekend, temperatures will remain above average. There is a chance we will return to near average conditions early next week.