Stay connected with the FOX West Texas Weather Team 24/7
Meteorologist Symone Thomas:
Meteorologist Tevian Whitehurst:
As we close out our final day of summer, we are seeing cool, not very summer-like conditions compared to that extreme heat we experienced yesterday. Temperatures right now in the lower 80s to upper 70s, whereas yesterday many places didn't reach the 70s until the end of the show! Lows tonight are also way down into the 50s. Tomorrow, we're looking at a high of 83 degrees as we head into this cool streak for the rest of the week. Winds will be much slower than today so you won't have to worry about getting blown away by a powerful gust. When you're headed out the door, don't forget how much cooler it's slated to be, a whopping 55 degrees when you're headed out the door for work and still only in the 70s by lunchtime – sounds like a great time to have lunch outside. When you're getting off work is around when we'll see our high temperature. Now after weeks of talking about it, we have finally made it to fall! The autumn equinox will be tomorrow at 2:20pm CDT exactly if you'd like to make a toast with your pumpkin spice lattes. If you're wondering "what even is an equinox?" don't worry, I've got you covered. It's when the sun directly hits the equator with its strongest sunlight. Because of the varying tilt of Earth's axis, the placement of direct sunlight varies depending on the time of year, between the Tropics of Capricorn and Cancer. So, we're about to enter winter as the sun's heat is further away from us while the Southern Hemisphere is about to experience their summer.
Luckily, even without summer, we're still going to see some comfortable conditions here in West Texas. Temperatures will be in the mid to upper 80s for the rest of week, and models are showing that things heat up a little bit more into the lower 90s as we start out next week. You can see Abilene is showing a slight 20% chance for showers next week, but that's very variable as of right now and I'll be sure to monitor it as we get closer to the day.
7-day forecast for West Texas: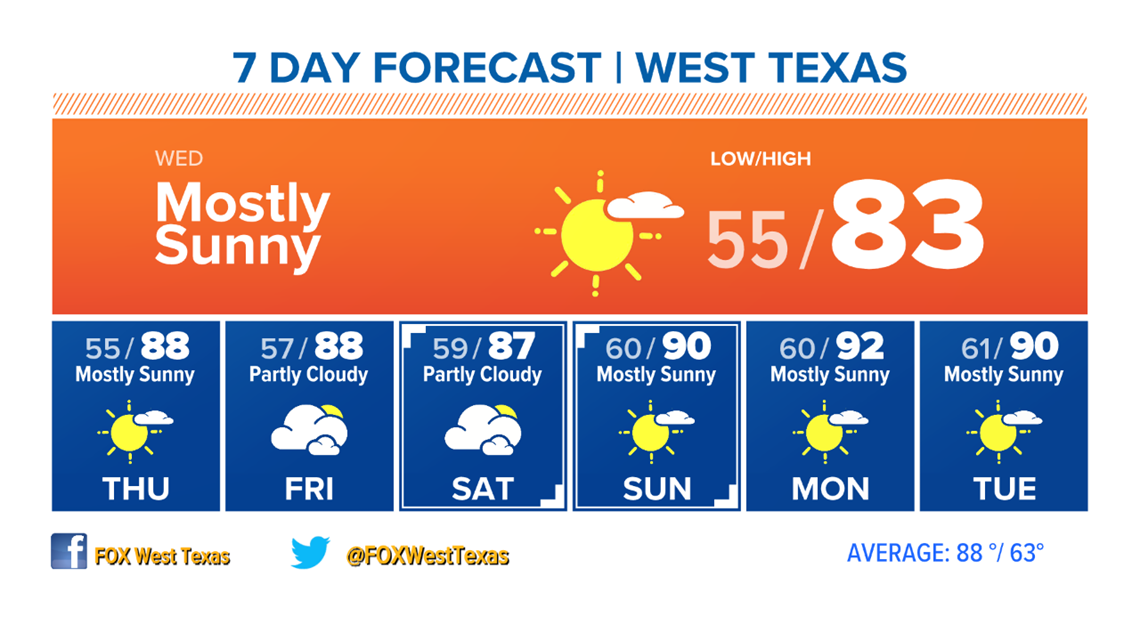 Stay with FOX West Texas for the latest information.