Stay connected with the FOX West Texas Weather Team 24/7
Meteorologist Symone Thomas:
Meteorologist Tevian Whitehurst:
Temperatures right now are in the upper 60s to lower 70s as they begin a steeper decline overnight. For tonight, lows are going to reach the upper 50s for most of the area, which a bit warmer than we've seen for lows over the weekend. There's a wind shift as well as more moisture entering our region, so we're going to feel those winds as well as slightly warmer temperatures during the nights. Tomorrow, expect a high of 83 degrees, a partly cloudy day, and winds up to 15 MPH, all of the things I just mentioned. We're actually going to be seeing above average temperatures for most of this week. The Climate Prediction Center shows that much of the central US is seeing a similar pattern. The jet stream is going to be rising further north over the upcoming days, which means we'll be deeper in an area of warmer air with few diversions from it. As we approach the end of daylight saving, daylength is getting shorter and shorter. We are losing an average of 10 minutes per week. Even after Nov. 7, we'll continue to see our days shorten until the Winter Solstice on Dec. 21. As daylength decreases, fall foliage is increasing. Right now, we only have patchy foliage in West Texas, but our climate peak is just three weeks away-- lining up perfectly with the end of daylight saving. Looking at the 7 day, that's exactly what you see, where temperatures are slightly but consistently above our average of 80 degrees. It seems like West Texas is not quite ready to let go of some of this heat.
7-day forecast for West Texas: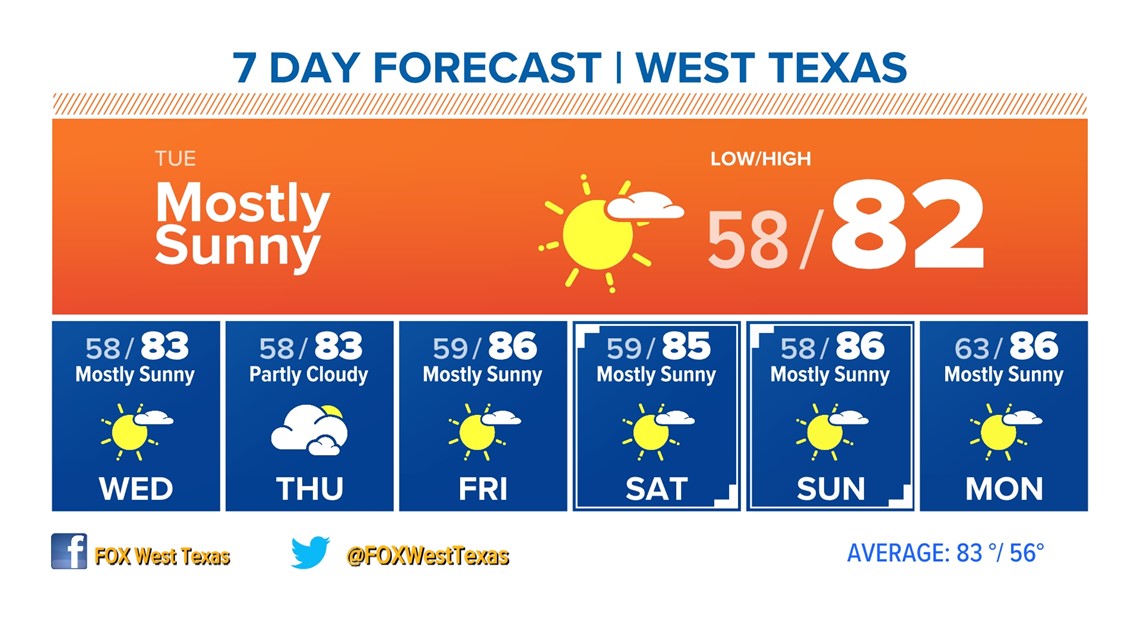 Stay with FOX West Texas for the latest information.